Features:

Ideal for use anywhere: Bathrooms, kitchens, hallways, etc


Quiet operation at 53 dB


Sleek European surface-mount design


Built-in thermostat for maximum comfort


Convinient 60 minute timer on CKT


Down draft design heats space evenly


Frost protection setting


Three year warranty


Four models to choose from
Ideal for any location where quick heat is needed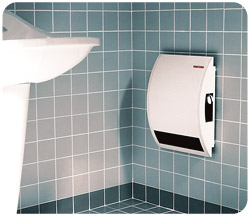 The modern and functional design fits any room and environment
Elegant surface-mount design is perfect anywhere quick heat is needed. Designed and made in Germany, the heater is quiet in operation and will quickly warm an area or maintain a comfortable temperature.
All the right features
The CKT adds a 60 minute timer designed to temporarily output maximum heat to quickly warm a space. When the timer goes off the unit reverts to the thermostat setting to maintain comfort. Both models are designed with a frost protection setting. The lowest thermostat setting will maintain above freezing temperatures in an appropriately sized space.
Four models to choose from
The CK series of heaters are available in four models: The CK 15E is a 120V, 1500 watt unit. The CK 20E is capable of running at either 208V, producing 1500 watts; or at 240V where it produces 2000 watts. The CKT 15E and CKT 20E share the same electrical specs, but add 60-minute timer-based operation.
Three year warranty means quality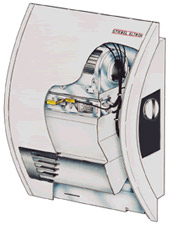 Cut away view for the CK
Like all of Stiebel Eltron's products the CK series of heaters have an outstanding reliability record. Our three year limited parts warranty is a testament to the confidence we have in our products.
CK and CKT heaters are ideal for:
Bathrooms
Kitchens
Hallways
Anywhere heat is needed quickly